Top Trade Show Tips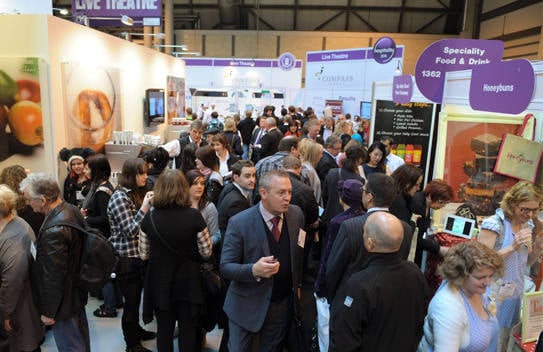 Trade Shows and events represent a great opportunity to meet new prospects and strengthen relationships with existing customers but there's more to a successful show than just turning up…Here are a few tips from an exhibitor with over 25 years of experience.
Some may seem like common sense but walk around any exhibition too see how many exhibitors still break these basic rules.
The 3 Second Rule -
This applies to almost every sales situation including your exhibition stand… In a nutshell, you have around 3 seconds to grab a visitors attention before they drift away.
If you don't enthuse them promptly, they'll browse the next, more appealing booth and your chance of business goes with them. The answer is to stand out, with an intriguing booth. And there are lots of ways to achieve this.
Displays -
Be visually stimulating but not too busy. Your signage must be catchy, direct to the point and with minimal text to conform to the 3 second rule.
Too many stands fail to clearly state what service they're offering, making it difficult for even those interested visitors to know if they're in the right place.
Draw A Crowd -
Encourage people to check out your booth and you'll find that once a few start looking, others will surely follow! The more people who view your stand the better.
Demonstrations are great for this but they need to be live. There are so many video demo's and screen displays at shows nowadays, that visitors have become immune and show blind to them.
Lighting effects, movement and sound are also excellent attention grabbers.
Get Your Contact Info To Every Visitor -
People love a freeby!
Give away custom printed gifts to as many people as you can. Position a staff member near the aisle, handing out giveaways to every passing visitor possible, with a smile.
If need be, hire a promotional person to do this. Sad to say, but visitors respond more favourably to attractive looking people, so a hard working promotions girl is a good investment.
Of course, this will not stop everyone, as not everyone wants what you offer right now… However, as long as they go home with your contact info, when they do find themselves in need of your service at some later date, they will recall your company, retrieve your details and you'll get the first bite of the cherry.
This is a significant factor in maximising the return on your trade show investment. Ideally choose a giveaway that offers good longevity rather than one that will be used up, eaten or discarded. Useful or novel items tend to work best.
Hand out enough incentives and some visitors will inevitably stop, curious about what your company does. Giving you a chance to deploy your sales pitch and win a sale!
Have someone working the aisle, (from within your own stand perimeter for the sake of show etiquette), to hook visitors before passing them over to sales staff for processing.
And if all your sales staff are busy, the same promotions person can keep interested visitors entertained until someone becomes free.
Pick the right giveaway and visitors will be hustling to get one, bringing them and others to your booth.
Avoid heavy or bulky promotional items too. Ordering 5000 mugs for a show will not only take a significant amount of room to store but will likely give your show staff a hernia! Compared this to 5000 keyrings that are small, light and don't break in transit and it's one less distraction from your objective of selling.
Stand Behaviour -
Don't sit while the show is open and definitely don't sit and read a newspaper!
Put your phone on vibrate and don't answer it when visitors are on the stand. Your full attention should be at their disposal. The same goes for doing emails.
Dress appropriately for the type of exhibition you're attending. Business shows, with business visitors respond to business dress codes.
Talk to as many people as possible. The wider you spread your net, them more chance of landing a catch.
Don't poach visitors from other stands. If someone is looking at a neighbouring booth, allow them to finish before approaching them.
Personal hygiene is paramount, so freshen up periodically and avoid strong smelling foods that linger on the breathe.
Hospitality is good, be it offering a peppermint or having a full blown bar on your booth. Visitors like to enjoy their day out and respond favourably to the VIP treatment!
Have a repertoire of opening questions ready, to encourage visitors to start a conversation. They should be simple, polite but leading, for example;
"Have you seen our products?" or "Which of our products do you prefer?" or "Do you know very much about our new service?"
Consider the possible responses and think about how you can direct the conversation from there.
Know your customer-base, so you can give suitable recognition to existing clients who drop by to say hello.
Scan all contacts, (or take a business card or write down their email address), and follow up each after the show with a special offer.
Be truthful, polite and courteous. The impression you give will either build trust or lose you respect both of which will be reflected in customer spend.
Preserve Your Catalogues & Save Money! -
Your catalogues are your flagship and you have invested a lot of money in them, so they deserve to go to good prospects only.
The problem is that if you offer someone a catalogue, they will accept it out of politeness, even if they're not really interested at that time. It'd appear rude to refuse.
But those show bags get very heavy and at some point in the day, they'll be naturally tempted to discard your brochure. That's a terrible waste of your money and a possible future customer.
What if you gave that same visitor a gift that bears your company web address? They'll still accept it but this time because they want it. And what's more, even if they don't have an immediate need for what you do, that gift will undoubtedly make it back home with them and be on hand for future reference.
It's a fact that investing in giveaways actually saves you money and yields better results. So be sure to have sufficient supplies and have a successful event.
Our recommendations for suitable trade show giveaways -
For more marketing tips, visit our page: Ten Ways To Promote Your Company.