Our standard size of silicone skinny 1/8" wristband is 202mm x 6mm.
Our skinny silicone wristbands are a must-have for anyone looking for a more discreet, and less intrusive wristband option. Whether it be for brand promotion, fundraising for charitites / causes or for commerical re-sale, these custom printed skinny 6mm silicone wristbands are an amazing tool to be used when considering any promotional needs!
Starting with 100 silicone keyrings for £109.99 including express delivery!


Prices include:
Any one colour silicone.
Any one colour ink.
Free design service.
Set up costs.
Free express delivery.
Our silicone keyrings are approximately 202mm (L) x 6mm (W) x 2mm (T). We always use top quality 100% silicone & the best hard wearing inks.
Skinny Silicone Wristbands - 202mm x 6mm (1/8")
While our skinny silicone 6mm wristbands are less visible than our standard 12mm wristbands, it doesn't make them any less of a valuable assest to a companies toolbar - this is due to some campaigns requiring a rather more discreet approach. Some people also prefer less intrusive wristbands, and if you're hoping for your customers to wear this on their wrists everyday, then this is a key thing to consider prior to deciding your wristband option!
For some more inspiration, please view our gallery page below.


Printed 6mm Wristband Option - Glow in the dark!
Did you know that you can make your skinny silicone 6mm wristbands glow in the dark? This is an amazing option for anyone hosting dimly-lit events such as night clubs, house parties, school discos, festivals & b-day parties!
Basically for this option, we infuse the silicone of your wristband with a special UV powder that gathers UV energy whilst left outside in the sun. Then, once it is removed from the sun & placed in the dark - it gains the magical ability of luminescence & can glow in the dark for several hours!
You can upgrade your custom printed silicone wristband order to include a glow in the dark upgrade for just £14.99 extra per each 100 pcs.
Have both adults & children to cater for? No issue at all!
Some of our customers have to cater to several age groups and audiences, we're very well aware of this and so we've always offered multiple sizes for our customers to pick & choose between. Just the same as our standard silicone wristbands, our skinny 6mm silicone wristbands also come in 4 available sizes - infant, junior, adult & XL. This gives more than enough wiggle room for almost any size of person, and although our wristbands are generally 1 size-fits-all due to the stretchiness of the bands, it's always nice to have a more personalised & comfy fit when it comes to wristbands.
You can split your order between multiple sizes for just £10.00 per size.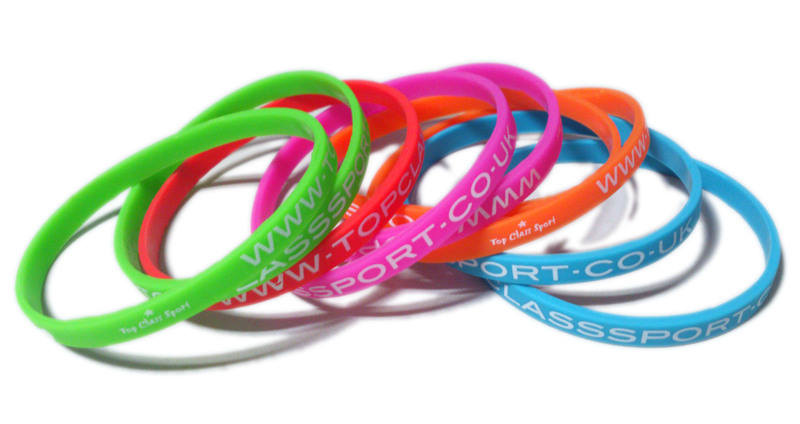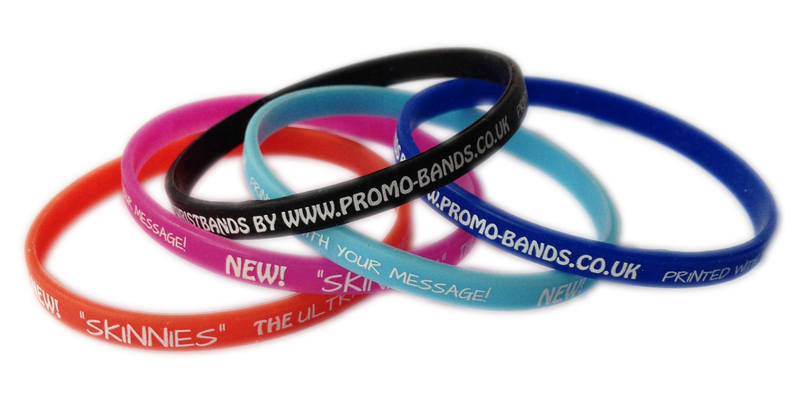 Are 6mm wristbands as durable as 12mm wristbands?
You would be forgiven to assume that our skinny 6mm silicone 1/8" wristbands are less durable than our standard 12mm silicone wristbands, however this is fortunately not the case! Our 6mm wristbands are actually a fair amount more durable than even our standard bands (which are very durable indeed) and this is due to the decreased height of these bands. This leaves them with higher elastic properties & in turn, greater durability.
Check out our gallery for more inspiration below.
Custom Printed Skinny Silicone 6mm Wristbands (Design Options)
Our skinny 6mm silicone wristbands are completely customisable - pick your own; sizes, colour of silicone & ink, fonts, clip-art, layout & design!
Just tell us your preferences & our professional in-house designer will take care of the rest.